Recent Client Success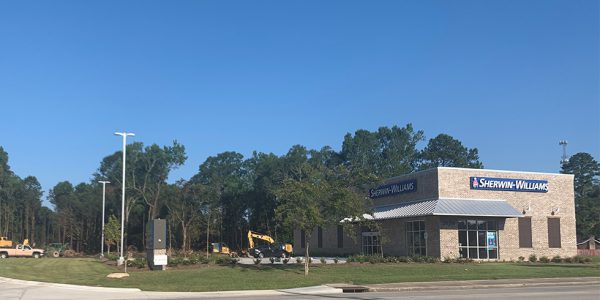 Challenge
The Peak Family engaged Stirling Properties' Regional Vice President Justin Langlois based on his track record of successfully working with vacant landowners and developers in South Louisiana. The Peaks owned approximately 7.2 acres of land on Walker South Road, also known as Hwy. 447, in Walker, LA. The property was in the heart of Walker but had its limitations: it was narrow, had a tremendous amount of depth, and was heavily wooded. Another challenge was the effects of the recent Great Flood of 2016, which created a perception that many sites in Livingston Parish were low-lying areas prone to flooding.
Action
To tackle the site and the limitations of the property dimensions, Langlois insisted on proper site planning that would consist of multiple layout designs. To overcome the negative perception of flooding in the area, he built an aerial database showing known areas of record inundation. In his marketing packages, Langlois then highlighted the Peak property, illustrating the site was much higher than those that flooded in 2016. He also ran a series of void analyses, quickly determining the area lacked goods and services that would make ideal candidates for the site. With an abundance of existing restaurants in the area, Langlois focused on service providers for the front of the property and senior living developers for the balance of the site.
Result
The initial valuation conducted by a local appraiser only included a single sale of the property. Justin's pursuit of multiple sales in order to achieve a higher price for the Peak Family resulted in two successful transactions greatly exceeding the previous appraisal.
Sherwin Williams acquired 35,000 square feet of property, resulting in the construction of a shared driveway to the benefit of the Peaks. The drive provides ingress and egress to the rear property, saving the family over $25,000 in construction costs relative to the new driveway.
A senior living developer purchased 6.4 acres and will construct a 70-unit senior complex.
Multiple land sales versus a single land sale resulted in a 14% increase over the most recent appraised value.
Testimonial
"I've known Justin Langlois for a very long time. He's always been very knowledgeable and is a straight shooter. The idea of selling the property in separate transactions was not something the family considered in the past. I am glad Justin discussed all the options with us, and we are pleased with the results. Now I've got to figure out how to get him away from work and family long enough to take me fishing in Cocodrie!"

– Lyle Peak
Justin Langlois, CCIM | jlanglois@stirlingprop.com | 225-926-4481