Greater New Orleans Area, Louisiana
The What And The Why
Through a joint venture of Ochsner Health System and National Renal Care (NRC) as operators, Stirling Properties was selected to develop four Ochsner Kidney Care clinics across the greater New Orleans area. Located in Jefferson, Marrero, Metairie, and Algiers, the clinics were new-to-market for Southeast Louisiana. They greatly expanded healthcare service offerings for Ochsner and its patients as Ochsner entered this new line of business. The facilities average 7,000 square feet, providing comprehensive, coordinated kidney care and dialysis services. Although the clinics were part of the same overarching program, each facility was unique, with one being a ground-up development and the additional three retrofits of existing retail space. Ohio-based Red Architecture + Planning served as the architect on the projects. MAPP was the General Contractor, and Duplantis Design Group was the Civil Engineer.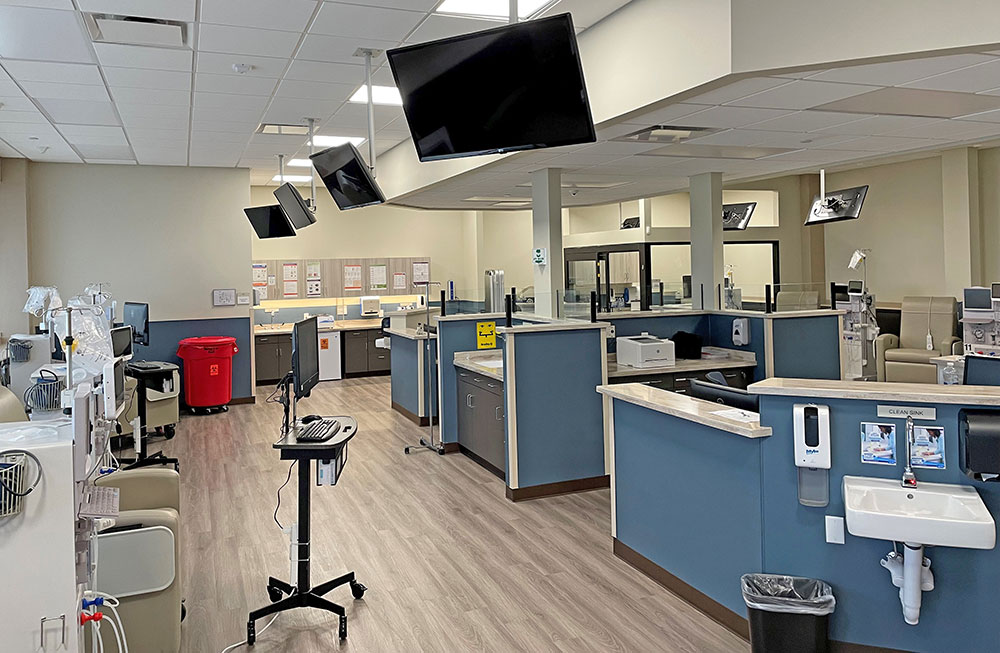 Our Challenge
These were the first dialysis clinics under the Ochsner/NRC brand, resulting in an entirely new team working together on four innovative facilities with four different designs—and NRC was not local to this market. The three preexisting sites were selected based on strategic market advantage rather than building condition, which posed further design challenges. Naturally, throughout the lifecycle of the projects, the client's needs and requirements evolved, as well as some key personnel, so relationship management and constant communication among the numerous entities (ground lease owners, three landlords, the operating tenant, our client, the JV, and the development team) were paramount.
There were also unique challenges associated with the specialized dialysis equipment needed for the facilities, particularly the complex water treatment rooms, and coordinating the specialized vendors that design, install and operate them.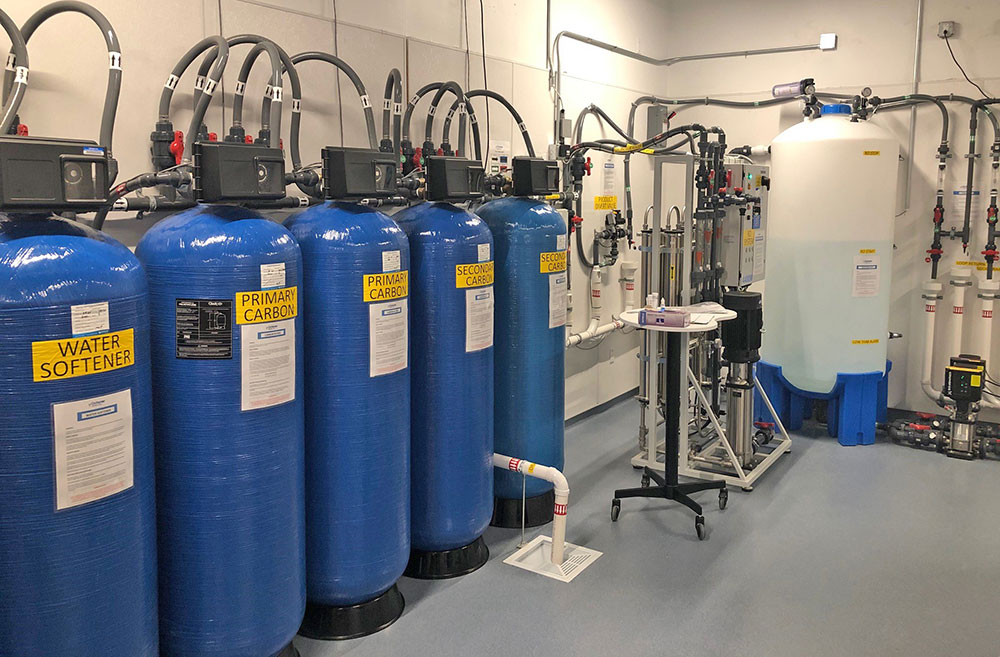 Moreover, we were operating a multi-faceted development project in the wake of a global pandemic. At the start of the project in March of 2020, COVID rules and regulations were still new and greatly enforced. Remote project management and coordination were required, and travel for out-of-town partners was delayed or eliminated. With no in-person meetings, there were also significant delays in working with local municipalities to obtain necessary zoning and utility approvals. All things easily achievable in a typical development were significantly complicated in a post-COVID landscape. As a result, project expectations and timelines became a moving target early in the process.
Our Strategy
Intending to deliver four high-quality, best-in-class medical spaces within our client's anticipated timeframe—despite numerous challenges—we deployed an all-hands-on-deck tactic.
Our approach to each project was collaboration leads to success, and we engaged all necessary resources. We leveraged Stirling Properties' stellar reputation and extensive relationships to push these projects across the finish line. Our team worked diligently with local municipalities and utility providers to obtain all necessary permits and approvals to move the developments forward.
Our team learned to conform to our client's diverse needs and expectations and deliver a product to Ochsner's quality standard. While all four facilities had the same end-use, this project highlighted that there is no one-size-fits-all or cookie-cutter approach to project management and development in the healthcare space. The stakeholders and process for decision-making and approvals with our client were unique from all other Ochsner projects that we have worked on previously.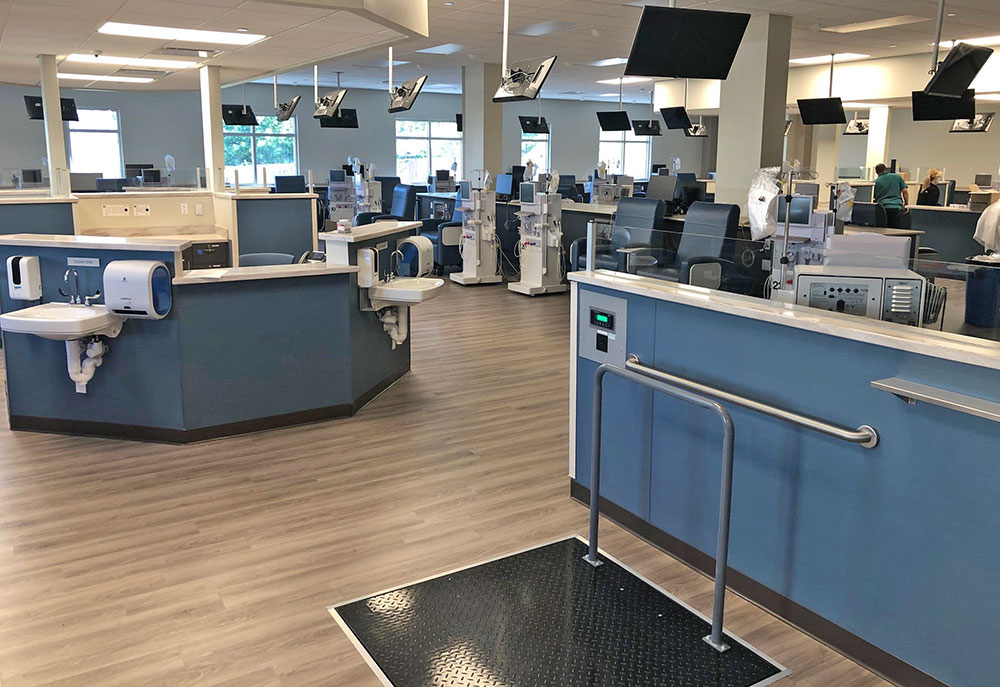 Our extensive commercial background and translatable skillset allowed us a deeper understanding of our client's specialty-use services and needs from an operational perspective. Because of this, we were able to find creative solutions to overcome design challenges with retrofitting the existing spaces and accommodating the complex requirements of specialty equipment needed to provide critical patient services. While these were outpatient clinics, they offered the treatment level of a hospital.
Our Results
In the end, we were able to overcome obstacles and deliver four state-of-the-art dialysis clinics—the first of their kind in Southeast Louisiana—increasing Ochsner's footprint and patient connectivity across the greater New Orleans area. In addition, we repurposed three existing retail spaces and backfilled them with a new long-term healthcare tenant, enhancing the property value and increasing foot traffic for neighboring businesses.
We effectively managed a cohesive relationship among our clients, development team, design team, and various municipalities, despite COVID-related challenges. Understanding the ratio of square footage to treatment floor and how our client's specialty-use services revolve around that helped us develop/implement a specialty-use model that can be used for future projects.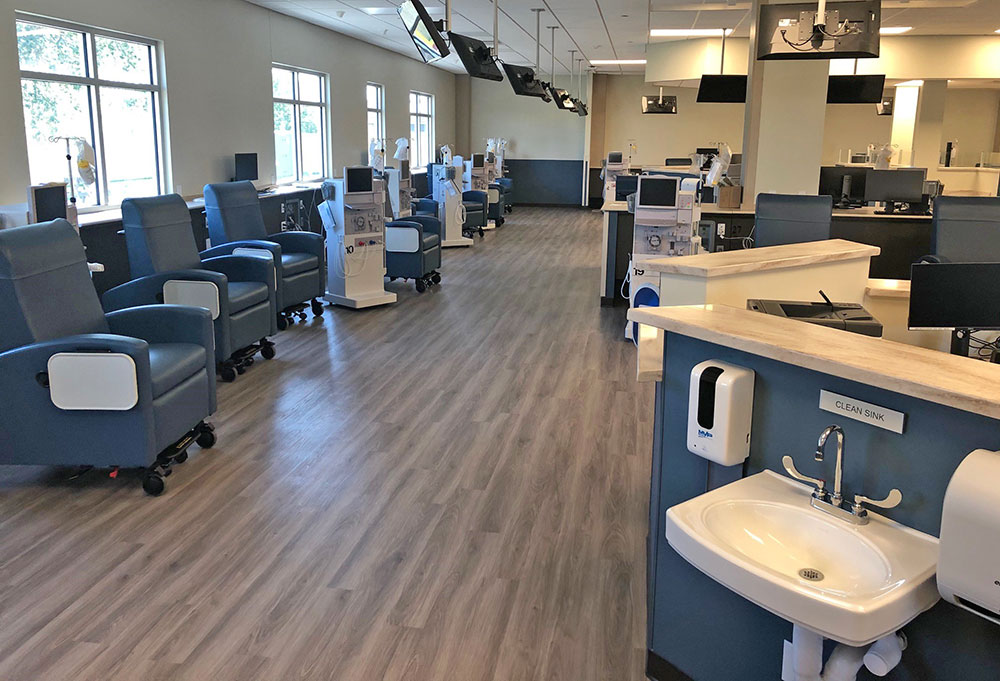 The first location, Ochsner Kidney Care – Jefferson Highway, is a ground-up development and stand-alone facility adjacent to Ochsner Rehabilitation Hospital. It occupies 10,898 square feet of space with an auxiliary parking lot that end caps the provider's West campus. The cornerstone building complements the existing rehab facility, serves parking needs, adds value and visibility for Ochsner, setting the stage for future growth. The facility opened in the fall of 2021. The additional three facilities are completed and opened in December 2021.
With the first kidney care centers under their belt, Ochsner will continue to expand their dialysis services and presence in the market—Stirling Properties is proud and thankful to continue our long-standing partnership with them.